Can you help homeless children recover from the disruption of COVID?
The CHAMPIONS Project is a nationwide study working with families and professionals to address the challenges that children under 5 in temporary accommodation have faced during the pandemic. They currently have two surveys open to better understand these challenges - one for families and one for professionals and volunteers.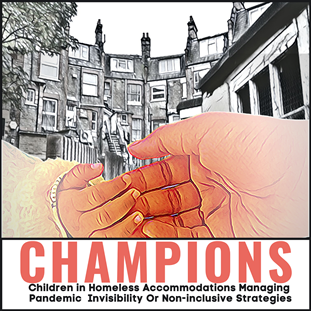 Living in temporary accommodation (TA) is already linked with causing health problems for children now and later in life, but the disruption of health and other support services due to the COVID-19 pandemic has made this situation even worse. Furthermore, COVID guidelines such as self-isolating may be unfeasible for those living in TA.
CHAMPIONS is working to understand the impact of the COVID-19 pandemic on families with children under 5 living in TA, due to experiencing homelessness. The team have already successfully engaged with the former Public Health England, NHS England, charities such as Shelter, Crisis, Shared Health Foundation, several MPs, and many more.
The CHAMPIONS research team have launched two online surveys as follows:
For families, who have lived in TA while caring for children under 5
The survey provides an opportunity for families to have a voice, share their experiences, and influence decisions about their child's health and wellbeing during the COVID-19 pandemic. Vouchers are being given to all those who complete the survey. Complete the family survey here.
The team can support someone to fill in the survey on the phone, via a translator or send a paper copy with a prepaid reply envelope. Please do share and help us in trying to reach 50 families.
For professionals and volunteers working with families in TA
Professionals and volunteers include those working in health, legal, housing, education, and social services that support these families. The survey takes just 15 minutes. Complete the professionals/volunteer survey here. 
Families and professionals are also invited to take part in interviews - if you are interested, please email champions@ucl.ac.uk or Professor Monica Lakhanpaul (project lead) at m.lakhanpaul@ucl.ac.uk.

CHAMPIONS is funded by the Economic and Social Research Council (ESRC) and supported by NIHR ARC North Thames.
Download the CHAMPIONS brochure.

Find out more about the CHAMPIONS project and surveys. For further information, please email them at champions@ucl.ac.uk or call 07436 030173.