Research from the North Thames region showcased in nationally significant applied health and care research publication.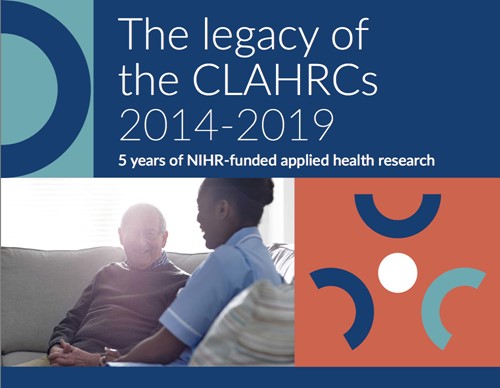 Research from ARC North Thames region has been featured in a newly released flagship document that demonstrates the impact of National Institute for Health Research (NIHR) funded applied research to transform health and care across England.
Two research studies from NIHR CLAHRC North Thames (our ARC predecessor) were featured. These studies were:
Improving detection and treatment of atrial fibrillation in primary care
Atrial fibrillation (AF) is the most common form of arrhythmia, affecting 4 in 100 people over 65. More than 50% of cases could be averted by oral medicines called anticoagulants (OACs). However, the proportion of patients receiving OACs varies. This study examined the determinants of why anticoagulation varies between GPs across the region, and successfully implemented intervention programmes to improve medicines optimisation and AF detection. Improvement in detection of AF has led to an estimated reduction of 45 strokes over three years due to anticoagulation. Find out more.
Improving the identification and management of people with HIV
Early diagnosis of HIV prevents future ill health or death, stops viral transmission to partners and children, and reduces burden to public health budgets. General practice may provide access to HIV testing to people less likely to attend sexual health clinics. Using a randomised controlled trial called RHIVA2, this study found that, when HIV screening was used in Hackney general practice, there was a fourfold increase in HIV diagnosis. It was also cost-effective in the medium term, and acceptable to staff and patients. This work has informed national and international guidelines, and supported improved HIV testing services in Newham, Waltham Forest and Birmingham. Find out more.
Our research benefits from world-leading expertise across between six leading universities (University College London, London School of Hygiene & Tropical Medicine, Queen Mary University of London, London School of Economics, City and University of East London), our region's NHS and local authority (LA) organisations and communities, industry and charities.
Professor Rosalind Raine, Director of ARC North Thames and Head of the Department of Applied Health Research at UCL said:
"These are just two of the 87 studies we conducted in public health and many chronic diseases from mental health to cancer. Our research directly benefits health and reduces inequalities. We could not have achieved such impact regionally and nationally without the close and highly valued partnership with our NHS and local authority colleagues,patients and the public".
The publication, 'The legacy of the CLAHRCs 2014-19 - 5 years of NIHR-funded applied health research' compiles key research projects from the NIHR Collaborations for Leadership in Applied Health Research and Care (CLAHRCs). Drawing together case studies from priority themes, the document demonstrates how the CLAHRCs conducted innovative research leading to improved outcomes for patients and the public, and better and more cost-effective services.
Dr Louise Wood CBE, co-lead NIHR,  Director of Science, Research and Evidence at the Department of Health and Social Care, said:
"The NIHR CLAHRCs increased the country's applied health and care research capacity and capability, making this a key strength of the NIHR.  These case studies are a fantastic demonstration of the CLAHRCs' impact on improving services and outcomes for patients and the public, across a wide range of priority areas.  Our Applied Research Collaborations continue to build on this legacy."
Read the full CLAHRC Legacy document.
Since October 2019, the NIHR Applied Research Collaborations (ARCs) have continued the work of the CLAHRCs. They deliver research relevant to the needs of their local populations, while contributing to nationally identified research priority areas.