A group of researchers and public advisors from ARC North Thames had a fantastic time presenting at this year's Bloomsbury Festival. The team had a stall in the Discovery Hub, which ran from Thursday 19 - Saturday October 2023.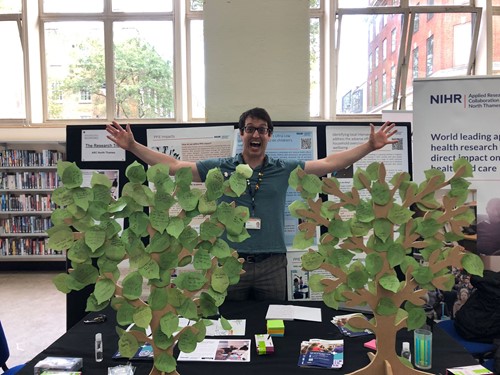 This year's Festival theme was grow. We took our Research Trees to Holborn Library and asked visitors what sprung to mind when they heard the word "Research", and what supported or posed challenges to research. This created some fantastic conversation with general public visitors and with visiting groups of school children aged 7 - 12 years. Answers included that research should be:
"In language I understand"
"Help visits to hospitals and the doctor be more comfortable and easy for patients"
"Focus on things that really matter to me"
It was great to see some familiar faces from other research groups from UCL and other NIHR infrastructures, such as NIHR Moorfields Biomedical Research Centre. 
We'd like to thank all of our wonderful volunteers who gave up their time to represent ARC North Thames.