We are delighted to open a second round of funding for research fellowships and springboard awards open to all those working in mental health in the North Thames region. 
Funded by the National Institute of Health and Care Research (NIHR), through a programme called Mental Health Research for All (MH-ALL), these opportunities are aimed at people who have  those who have never been involved in research before to those looking to develop and further their research career. 
Anyone who works in or with mental health services can apply, including staff from NHS Trusts, local government, public health, social care, or community care. The programme is particularly keen for applications from people working in mental health in East London and Essex, from candidates from minoritised communities and in roles in mental health and social care with limited opportunities to engage in research.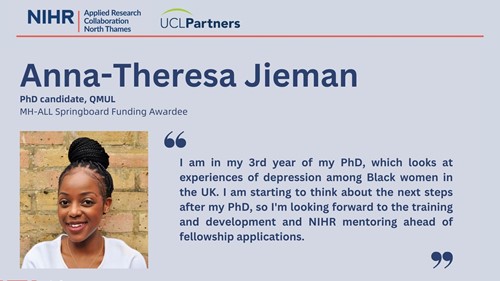 Different funding streams are available: 
For staff who have some previous research experience and are keen to further develop their career in research, the programme is offering part-time career development fellowships, running for either 6 or 12 months. These will allow staff funded time out from their current role, to develop a proposal for a PhD or to apply for other funding. They will receive advice and support from established researchers and research skills training. The research can cover any area of mental health care (except dementia, which the NIHR supports through a different programme). 
Staff who have prior experience in research have the chance to take their ideas forward through a 'Springboard' grant. They can apply for up to £10k funding to disseminate research they have already undertaken, take existing research on to the next stage or to develop a new idea. The funding can cover, for example, publication of results, attendance at a conference or feasibility studies. All research should focus on local community needs in any area of mental health care, except dementia. Please note that springboard funding is available to two streams: Emerging Researchers and Established Researchers. 
Applications close at 5pm (BST) on Wednesday 19th April. 
Visit the MH-ALL opportunities webpage for more information.  
For informal enquiries please contact mh-all@ucl.ac.uk